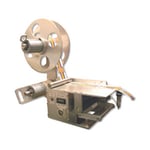 110 Label Dispenser
The Model 110 label dispenser uses a photoelectric sensor that helps dispense any type of label – opaque, clear, etc. Further, the Model 110 allows for you to adjust the length of the feed for different labelling needs. Each label is dispensed one-at-a-time, allowing the necessary time for the label to be applied by hand. When the label is removed from the machine, the next label is automatically dispensed, eliminating hold-ups during the labeling process.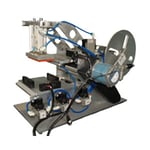 120 Tabletop Tamp Labeler
The model 120 Tabletop Tamp Labeler provides a semi-automatic method to apply labels and gaskets to flat or slightly curved surfaces. The custom label pads and product fixtures accommodate any product shape. The photoelectric laser sensor allows for different labels - opaque, clear, etc. - to be applied to products as needed. The intuitive touchpad interface and the Programmable Logic Controls (PLC) make this labelling solution a user-friendly option that fits easily into any factory setting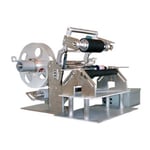 130 Tabletop Wrap Labeler
The Model 130 Tabletop Wrap Labeler applies labels to round bottles and other cylindrical products efficiently and with repeatability. The caddy is customizable in order to fit smaller or larger products. Just place a bottle on the caddy, lower the handle, and the labeler will do the rest. A standard caddy accommodates a wide range of container sizes. The compliant roller is designed to work with uneven surfaces and allow for a smooth application.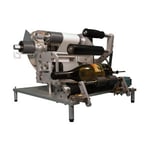 135 Airless Tabletop Bottle Labeler
The 135 Airless Tabletop Wrap Labeler applies labels to round products with no need for compressed air. You simply place the product in the caddy and press the foot switch. A top hold-down is provided in case empty or lighter containers need labelled. The standard product caddy adjusts for easy access, and customizable caddys are available for larger or smaller products. A custom mandrel and label handling are also available for tapered products.