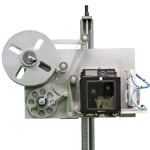 Print and apply labeling machines are at the heart of the LabelPack Automation line of packaging equipment. Our label printer applicators are engineered with industrial strength and intuitive design for ease of operation and maintenance. We offer a broad range of label application solutions tailored to a variety of industries
LabelPack Automation provides solutions for leading, trailing, corner wrap, and single/dual panel label applications. Our systems are capable of consistent, high level performance in a variety of conditions. LabelPack Automation labeling machines have been integrated into packaging lines from standard, every day applications to extreme heat, cold, and wash down environments.
Print Engines for Label Applicators
We engineer a variety of label printer applicators driven by the leading print engine manufacturers:
Datamax based Printer Applicator Print Engine
SATO based Printer Applicator Print Engine
CAB based Printer Applicator Print Engine
Label Application Methods
During our discovery phase of the project, we will work with you to develop the appropriate:
Tamp On Label Application
Blow On Label Application
Wipe On Label Applications
If you would like to learn more about LabelPack Automation's capacity to improve the efficiencies of your production line, give us a call today at 888-579-1528.