CAB XC SERIES TWO COLOR PRINT ENGINE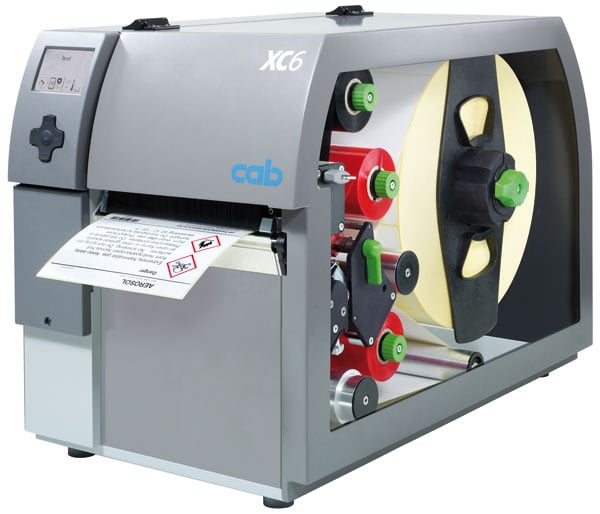 CAB XC SERIES TWO COLOR
Two print units are arranged one behind the other to achieve simultaneous printing with two colors on one label. Ribbon-saver mechanism on one print head. Compliant to the GHS regulations for classification and labeling. Picking up large label rolls with up to 11.81 in./300 mm diameter.
Resolution: 300 dpi
Memory: 64 MB RAM; 8 MB Flash (standard)
Maximum Print Width:

XC4: 4.16 in./105.6 mm
XC6: 6.40 in./162.6 mm

Print Speed: Up to 4.92 in./125 mm per second
Media Sensors: Gap sensor for labels, punch marks, or print marks in transparent materials and end of material.
Dimensions:

XC4: 9.76 in. W x 15.55 in. H x 21.81 in. D
248 mm W x 395 mm H x 554 mm D
XC6: 14.09 in. W x 15.55 in. H x 21.81 in. D
358 mm W x 395 mm H x 554 mm D

Weight:

XC4: 48.50 lbs./22 kg
XC6: 52.91 lbs./24 kg
Large graphic display: White backlight provides good readability.
Ribbon holder: The three-part tightening axles enable the ribbon to be quickly and easily exchanged.
Plungers: One is fixed at the inner side. The second is adjusted that far to the edge of the label until a good print image is ensured.
Antistatic brush: Particularly with plastic materials the electrostatic charge is discharged after printing.
Periphery connection: Additional modules are quick and easy to connect. All peripheral devices are plugged to the printer with the help of two pins and are fixed with a screw.
Ribbon-saver mechanism on print head 1:
to be used with labels that are only partially printed. Within unprinted areas the print head is lifted and the ribbons is stopped during label feed.
Rugged metal chassis: made of cast aluminum. Basis to assemble all the units
Roll holder: picking up label rolls up to 300 mm. With the help of the swing lever and the integrated brake labels are unwound with constant tension.
Fanfold guide: Fanfold labels are set behind the print unit. The guide and the additional brake ensure that they are safely fed to the print mechanics.
Print roller DRS: It has an extra long service life at a higher imprint tolerance. Coating: silicone


Operating Temp.: 41°F to 104°F/5°C to 40°C
Storage Temp.: 32°F to 140°F/0°C to 60°C
Operating Humidity: 10% to 85% non-condensing