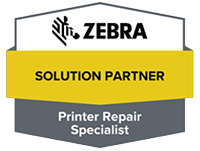 ZEBRA PARTNER
Quality Zebra Printer Repairs, Service, and Maintenance
LabelPack Automation has been certified by Zebra as a Zebra Authorized Service Provider (ZASP), and we want to put our expertise to work for you to provide you with the best solutions and the highest-quality products.
LabelPack Automation sells a wide range of creative and dependable Zebra printer products for your business related requirements. And Zebra printers are known for being one of the most reliable names in the printing industry. This trustworthy brand is celebrated worldwide for the best quality barcode printers, mobile printers, desktop industrial printers, and printer engines in particular. Additionally, we would love to be your source for the supplies – parts, labels and ribbons.
LabelPack Automation has long served as a Zebra Advanced Partner. Their prestigious designation means that we are among a select group of Zebra Technology Corporation partners. And it means that we are capable of offering the complete line of Zebra printers, services, and solutions to you, our valued customers. In addition, we are members of the Zebra Trade-In Program.
Mobile Printers:
We offer an array of choices, including Zebra's compact ZQ500 Series mobile printers. Did you know that they are the industry's most rugged? They feature a military-grade design, and can keep you operating even in the most challenging environments.
Label Printers:
We carry Zebra's Xi Series, which is built for high-volume applications and harsh environments. These products deliver superior print quality and reliability.
Desktop Industrial Printers:
Among others, we offer Zebra's ZT400 Series, which is well-constructed with an all-metal frame and bi-fold door. These printers deliver right where it counts: in print speed, registration and connectivity.
Print Engines:
We offer the Zebra ZE500 series, which boasts a design focusing on ease of use, integration and servicing, and is built with the customer in mind.
LabelPack Automation is a ZASP (Zebra Authorized Service Provider) Partner. This means that we have been certified by Zebra to offer on-site and depot repair and maintenance service. It also means we must adhere to Zebra's stringent and rigorous quality and service requirements.
Zebra insists – and for good reason – on their rigid educational and quality standards. They don't give out certifications to just anyone. Zebra printer repair certification means coursework and a test that our engineers must pass. Zebra's official training brings together elements of blended learning approach. So our engineers thoroughly read and study all training manuals and guides, and they also get hands-on practical experience which is assessed by trainers. Our engineers have to pass assessment examinations offered by Zebra.
We are also required to maintain a certain minimum number of qualified and certified engineers at LabelPack Automation in order to keep our certification status. Another vital part of the certification process means that our engineers are required to stay fully up to date on new Zebra products and technologies during the entire two-year certification period. And they might even be required by Zebra to complete additional learning modules in order to stay current with their Zebra Printer Repair Specialization status. These can include instructor-led classes at a Zebra location.
Plus the Zebra network is a strong one. We assure a local presence for Zebra here in Pennsylvania, as we join more than 900 Zebra-authorized service locations in North America. Plus our service center technicians have access to Zebra in-house engineers and network design teams. They help to serve as an additional level of support for more complex network issues.
If all of that sounds complicated – it is. Because Zebra takes their Printer Repair Specialization certification seriously, and so do we at LabelPack Automation.
Maintain the original performance, quality, and integrity of your printer with genuine Zebra replacement parts from LabelPack Automation, your Zebra Authorized Service Provider (ZASP). We are authorized to repair most Zebra printers, and we also offer ZebraCare Extended Warranty and Maintenance Programs. These programs are designed to provide you with ongoing peace of mind and the finest service for your Zebra printer and its preventive maintenance needs throughout the agreement period.