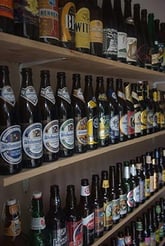 There is no denying that the Craft Beer Industry is growing – and rapidly at that. Currently in 2015 there are over 4,000 active breweries open within the United States, which is the most we have seen since pre-Prohibition. More specifically, craft breweries make up over 85% of that number.
As the market and industry expands, it should come to no surprise that individual breweries will begin to feel the positive effects. As you begin to produce more craft beer, you may soon find that your current production equipment is no longer fulfilling your needs.
Now that you are looking to upgrade your equipment- what better place to start than with what your consumers see the most – your labels!
Materials: What Kind Of Label Are You Going To Use?
The type of label that you use is an important component in your marketing strategy.
In a craft beer study conducted by Package InSight, a group of 190 subjects were given special glasses that could track and record their eye movements. The subjects entered a realistic set design to look like a grocery store or a local beer distributor. One bottle on the shelf featured label in either: paper, matte film, white gloss film, metalized film, wood veneer, and clear printed. Each bottle was viewed by 30 participants before being switched out. Each bottle was also numbered so that the subjects could record which beer they had selected for purchase.
Subjects took less time to locate and fixate on the white gloss film and the wood veneer labels.
The clear film label was viewed 20% longer than all other labels and the study concluded that the label with the longest viewing time was more likely to be purchased.
62% of subjects were more interested in the metalized film label than any others.
46% thought the craft beer with the metalized film label would be more expensive.
40% thought the paper label was the least expensive craft brew.
The study shows that the label you choose, as well as design, clearly influences buyer decisions.
Brand Your Bottle
LabelPack Automation is experienced in creating labels and designing automated application solutions for craft breweries. We can create your labels on:
Paper
Matte Film
Wood Veneer
White Gloss Film
Metalized Film
Clear Film
Flexo
Digital
LabelPack Automation offers free beer bottle label templates that can be downloaded today so you can get started designing your own craft beer label.
If you need a labeling solution for your craft beer, please contact us today to speak with a sales representative!