What label automation means to your bottom line.
Many companies rely on manual labor to apply labels to cartons coming off of the production line. They could be running one to three shifts and perhaps multiple lines. All and all, it's a significant amount of manpower.
Employing a person who stands at the end of the production line all day putting labels on a box can lead to inconsistent label placement and is very expensive in the long term.
Cost Analysis of Manpower vs Label Automation
Cost of Manpower
Let's look at a simple scenario that deals with label application at the end of a production line.
For this example, we will assume your employees are working at a minimum wage of $7.25 / hour. Payroll taxes are 10%. As part of your employment package, you give them:
3 sick days / year
5 vacation days / year
5 paid holidays / year
1 hour paid lunch
We will use this information to roughly calculate your per employee cost.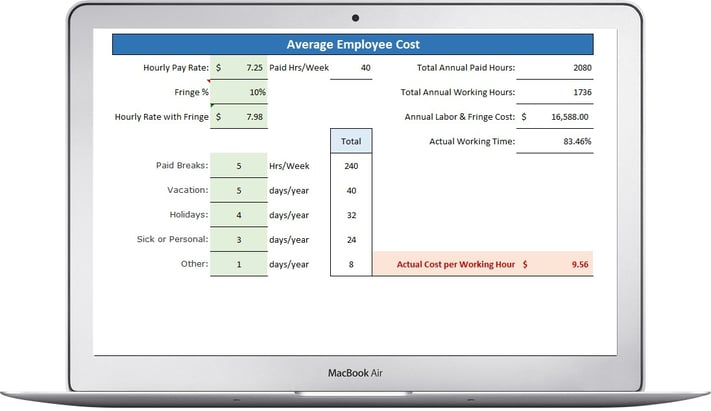 When we take into account employee paid time off, we are looking at about $9.56 per hour. This gives us a strong point of reference to compare the benefits of automation.
Cost of Automation
We need to do a similar analysis for our automation system. To do that, we need to know a few things about our production.
Our Production Line Scenario is:
1 Product Line
8 Hour Shifts
2 Shifts
5 Days a Week
With the above information, we can plug in some estimated numbers for our potential print and apply labeling system. Let's assume you got a quote and, after some due diligence, came up with the following numbers:
System Cost: $24,000
Annual Maintenance: $1500
% Downtime: 7%
A new system is costing you about $24,000 with expected routine maintenance of $1500.00. Our 7% downtime includes unexpected repairs, scheduled maintenance and reloading labels, ribbons, etc.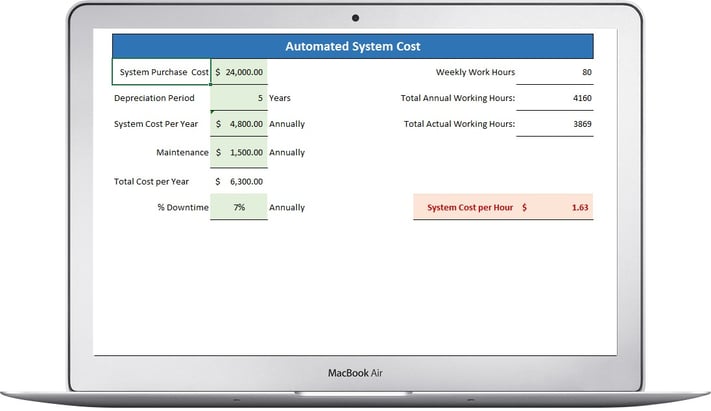 Summary
With all the above information, our actual hourly cost of manpower is $9.56 vs $1.63 per hour of automation from our print and apply system. This is a significant savings!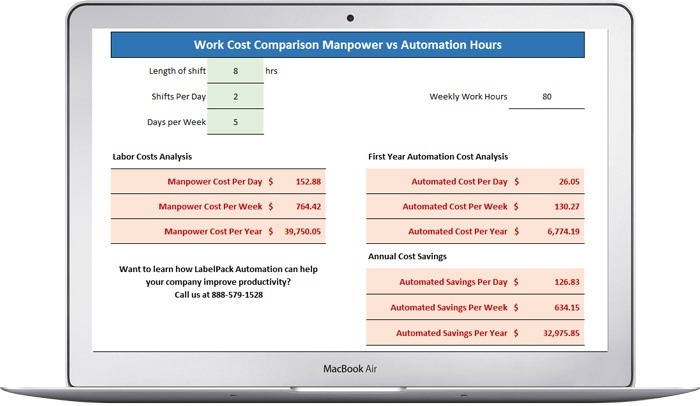 That's $126.83 difference over 2 eight hour shifts per day, $634 savings per week and $32,975 per year! Automation really shines when you look at the long term. While there is a significant investment up front, once it is made, the cost over time falls dramatically.